From the mouths of pups
Our Blog
July 11, 2017
Employee Profile: Kyle
Kyle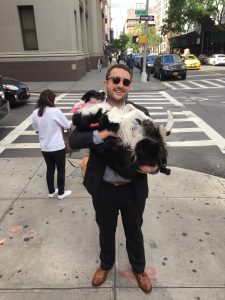 Get to know Ripple's Founder and President, Kyle Leigh! Kyle is from Denver, Colorado. He received his International MBA from the University of Denver in 2010. His focus was Global Political Economy, and he brings a macroeconomic approach to his work. In his free time, Kyle enjoys traveling, skiing, and hiking with his beloved Border Collie, Ziggy.
In 2012, Kyle moved to New York City and became one of the first to help develop what programmatic will become for the recruitment industry. Before founding Ripple, Kyle worked for an advertising agency, focusing on developing and integrating technology for making client media buys more efficient.
As the President of Ripple, Kyle sets the direction of the company. He is the head evangelist of what programmatic for jobs is today and how Ripple is taking it into the future. Kyle works with product, sales, operations, and marketing teams. On a day-to-day basis, he speaks with clients and maintains partner relations. He also attends and speaks at various industry conferences. When he is not on the road, Kyle is in the office, happily throwing toys to Ziggy.
Kyle is excited about the future of Ripple because he sees endless opportunity for the company to help direct the industry forward. Ripple is not peddling yet another gimmick or knickknack. We are a recruitment solutions provider who believes in making it more easy for the right employers and the right jobseekers to find one another. In other words, we are helping people advance their vocations.
Give Ripple
a try
today
Enter in some basic information and someone from our team will be in touch shortly!