From the mouths of pups
Our Blog
July 13, 2017
Employee Profile: Kevin
Kevin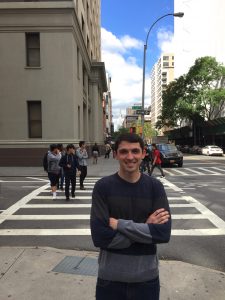 Meet our Associate Director of Operations, Kevin Bunce! Born and raised in Hopewell Junction, New York, Kevin is passionate about soccer and hiking. He belongs to the High Pointers Club, a hiking club in which members hike to the highest elevation point in each state, and has completed 46 out of 50 states. Another fun fact- Kevin once kayaked from Albany to Manhattan. Kevin attended Binghamton University, studying Business Management with a focus on Entrepreneurship.
Before joining us at Ripple in March, Kevin was an Operations and Product Specialist at Indeed where he was in charge of project management, keeping track of bugs and issues, and flow of communication.
Now, as the Associate Director of Operations at Ripple, he provides technical expertise and helps with project management, workflow, and more. Kevin helps onboarding clients and vendors into the Ripple platform, mapping out feeds, setting up IO's or budgets for publishers, and consulting with publishers about industries to work with. Additionally, he arranges billing reconciliations for both clients and publishers. His technical expertise keeps job feeds and postings as well as Ripple platforms running smoothly and bug-free, and makes sure publishers' sites are mapped out effectively. Kevin also provides organizational support to make processes flow optimally and works on trainings for new platforms.
A few reasons Kevin joined and is excited about the future of Ripple are new products, new ideas, and the creativity and passion of his colleagues.
Give Ripple
a try
today
Enter in some basic information and someone from our team will be in touch shortly!