From the mouths of pups
Our Blog
July 11, 2017
Employee Profile: Amanda
Amanda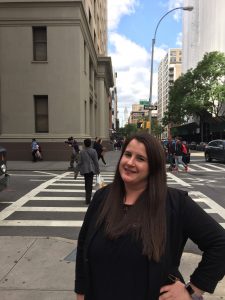 Meet our VP of Client Services, Amanda Shanon! Amanda is from Albany, New York. She is a doting aunt to two little nieces and a horse nephew, and in her free time she enjoys playing on a softball team and hanging out with friends. Her favorite place is the beach. Amanda graduated from the University of Vermont with a Political Science Major and a Sociology Minor.
Before Ripple, Amanda worked at two of the largest recruitment advertising agencies. Her background and experience in roles such as account executive, account manager, and account director are the foundation of her knowledge of the process as a whole. Having worked with agencies, staffing companies, and job boards enables her to apply that experience to her role at Ripple.
As Ripple's Vice President of Client Services, Amanda oversees client relationships, ensuring clients' goals are met, helping with onboarding clients, and managing the trading desk. She leads client calls, structures accounts for new clients, is in charge of media planning, and setting up reporting systems. Amanda works with Ripple's Trading Desk to ensure everything runs smoothly and effectively. Furthermore, Amanda works closely with Ripple's COO Ziggy, making sure her direct reports (Rhino, Dragon, and Lobster) have their needs met so they can get the job done.
Amanda is looking forward to where Ripple is headed because we have just scratched the surface on what programmatic means and its potential, making this an exciting point in the industry. She is enthusiastic about Ripple's next steps and being on the forefront of a developing industry.
Give Ripple
a try
today
Enter in some basic information and someone from our team will be in touch shortly!